Helps stimulate cell renewal and removes dead skin cells, impurities and blackheads that normal cleansing cannot combat.
Contains crab apple, a soothing and skin nourishing ingredient that smoothens the skin, walnut shell granules that gently scrub away dirt, visible blackheads and dead skin, and wheat germ oil, which is a rich source of vitamin E.
Walnut Shell, Crab Apple, Wheat Germ Oil
- Suitable for all skin types.

Directions for Use:

Apply the scrub to the face and neck in circular motions. Wipe it off with a damp cotton pad. Rinse with water and pat dry. Use at least once a week for a radiant, healthy complexion.

Benefits:

- Removes dead skin cells, impurities and blackheads
- Dermatologically tested
- Non comedogenic
- Hypoallergenic

Key Ingredients
Walnut Shell
The exfoliating micro-particles in walnut shell scrub away dirt, blackheads and dead skin cells.
Crab Apple
Crab Apple has antiseptic, cooling, soothing, nourishing and keratolytic properties. It soothes skin inflammation and helps remove dead skin particles. Crab Apple is also a rich source of vitamins and antioxidants that prevent skin cell degeneration and premature ageing.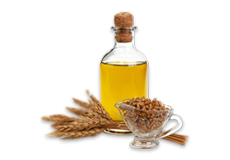 Wheat Germ Oil
Wheat germ oil is ideal for most skin types due to its high concentration of vitamin E, proteins and natural antioxidants. It is the perfect ingredient for a facial scrub as it nourishes the skin and strengthens its elasticity.